Innovation and entrepreneurship, when supported by social impact investing, create a leapfrog effect on people, planet, prosperity and partnerships.
The importance of supporting women was one of the main leitmotivs of the Africa Impact Investing Leaders Forum, held in London on 27 Oct, 2016. Delegates asserted that this historically disempowered group plays a pivotal and well-documented role in augmenting positive social, economic and environmental outcomes – particularly when impact investments find their way into microfinance, agriculture, renewable energy and infrastructure sectors.
Women are integral to social impact investing
Speaking from the podium, Suzanne Biegel, founder of Women Effect, urged all investors to use a "gender lens" when considering impact ventures. And to ask some salient, due diligence questions, such as: "Where are the women in this investment? Are they on the product design team if the product concept is for women? Do they have a formal leadership or decision-making role where the project in question is targeting women"?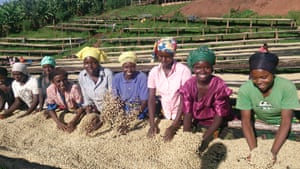 Caroline Mulwa, Kenya country manager of social impact investor, Oikocredit, agrees wholeheartedly with this view. Referencing the smallholder agriculture sector, she says: "88% of Africa's female population live in rural areas; 70% of agricultural labour is provided by women; 90% of all food is produced by women, but women own less than 2% of the land. Yet women have a significant, measurable, positive impact on small business ventures, local communities and families. And they have been proven to reduce investment risks".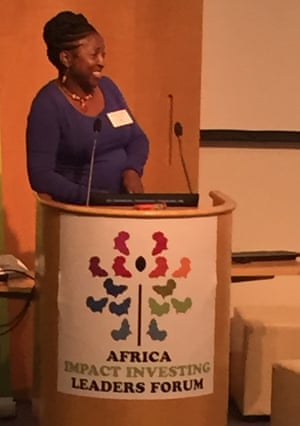 Mulwa highlights one of Oikocredit's microfinance partners as "exemplary when it comes to considering the roles and needs of Kenyan women from every angle". She continues: "KWFT – Banking on Women focus single-mindedly on the unapologetic financial support of women" – a phrase which Caroline says inspires her.
Led by women for women, KWFT has provided financial services to unbanked women in Kenya for over 30 years. With 800,000 clients now on their books, KWFT offer a unique product range spanning microloans, savings accounts, insurance loans and financial literacy training. Products are designed around the specific needs of women, such as planning for healthcare during pregnancy and childbirth; saving to ensure their own financial independence, and setting up small businesses. In-branch, KWFT provide footstools for teenage girls so that they can be on an "equal level" with bank tellers, as well as baby-changing and breast-feeding facilities for young mothers.
Across Africa, Asia, Latin America and central and eastern Europe, 86% of the end customers of Oikocredit's microfinance partners are women, meaning that vital access to finance and other support is offered to around 39.5 million women worldwide. Scott Brown, president & CEO of VisionFund International likewise emphasises the importance of women in the impact investing space, highlighting that over 70% of the end clients of VisionFund's microfinance partners are women.
Client Protection Principles (CPP) are critical to the due diligence strategies of both Oikocredit and VisionFund, and partners are required to demonstrate an ongoing commitment to eliminating any potential exploitation of end clients.
The impact investing potential within African agriculture

Agriculture, a sector in Africa which some say may be worth $1tn (£816m) by 2020, was also a lively theme during the forum. A panel, comprising leaders from Africa Agricultural Development Company, Alpha Mundi Group, ScopeInsight and Oikocredit, all highlighted how impact investing in smallholder supply chains can create one of the biggest impacts on reducing poverty – the UN's sustainable development goal one.
Agriculture, however, is often characterised by extraneous economic, financial and other challenges such as the impact of extreme weather; changes in global commodity markets, particularly price and currency volatility; shifts in government policies and weaknesses in local infrastructure. In order for the sector to mature, panellists discussed the need for higher levels of professionalism (including stronger due diligence and governance) and more innovative, public-private partnerships for impact investments.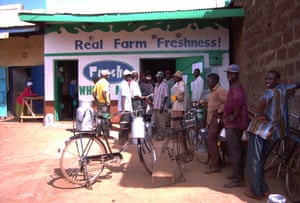 Applying her own experience of managing risks, Mulwa says, "It takes experience: taking risks, making mistakes, but learning from those mistakes". She adds: "It also requires us to look beyond the obvious and take a long-term view. So, we first consider the social mission within our investment decision-making, thereafter weighing up the risks in the context of the longer-term potential. I'm referring here to "patient capital" and a willingness to consider a project that may not look promising in the short term, but might bear significant financial and social returns in the longer term". Patient capital is an investing attitude which all panellists agreed is vital for successful impact investing.
Showcasing this approach in the context of Oikocredit partner, Githunguri Dairy Farmers' Co-operative in Kenya, Mulwa explains how, at first glance, their request for €1.5m (£1.3m) investment – to set up a processing plant for 31 dairy farmers and 200 employees; producing 15,000 litres of milk and generating a €0 return – looked risky. Other investors backed off, but Oikocredit saw the long-term financial and social potential and went ahead. As with many so-called risky ventures which Oikocredit supports, Githunguri paid off. Today, the co-operative has 15,000 members and employs 8,000 people across their entire value chain. They produce 220,000 litres of milk each year and, in 2015, reported a turnover of €52m (£46m).
If you are interested in investing in the Oikocredit International Share Foundation*, please contact our UK office. Alternatively, if you are a mid-stage inclusive finance, agriculture, renewable energy or infrastructure venture looking for equity or debt financing in Africa, please contact our east Africa or west Africa teams.
*Capital at risk. Terms and conditions apply. 
By
Monica Middleton
national director, Oikocredit UK & Ireland
Join these organisations to scale impact and discover new opportunities at the next edition of the Africa Impact Investing Leaders Forum in 2017 by Registering your interest as a partner, delegate or speaker. >> http://aiilf.com/register-your-interest/